CARE Card Rewards Program
Earn rewards for doing things that help you stay healthy.
To begin earning rewards, all you have to do is complete the new member Care Needs Screening within 90 days of your AmeriHealth Caritas North Carolina enrollment or one of the recommended health screenings or tests at any time. Information on the Care Needs Screening was provided in your welcome kit.
It's that easy!
| Categories | Incentives | Details | Reward amount |
| --- | --- | --- | --- |
| Well screenings | Infant and child well visits | Complete eight well visits from birth to 30 months. | $20 |
| | | Annual child well visits (ages 3-21) | $20 |
| | Cervical Cancer Screening | Women (ages 21 – 65) once every three years | $15 |
| Maternity Care | Prenatal visit | Reward offered for each prenatal visit (up to seven per pregnancy) | $10 |
| | Postpartum visit | 7 – 84 days after delivery | $15 |
| Diabetes control | Dilated eye exam | Once a year for members diagnosed with diabetes | $10 |
| | A1C blood test | For members diagnosed with diabetes with HbA1C results of 9.0 or less | $10 |
| Other | Care needs screening | Complete screening within 90 days of enrolling with AmeriHealth Caritas North Carolina. | $25 |
| | Behavioral health follow-up | Follow-up visit (for qualified members) with a provider who treats behavioral health issues within seven calendar days after discharge from a behavioral health hospitalization | $10 |
| | Flu vaccination | Children 2 years of age and under, limit once yearly | $50 |
Rewards earned in a fiscal year (July 1 – June 30) cannot exceed $75.
Your CARE Card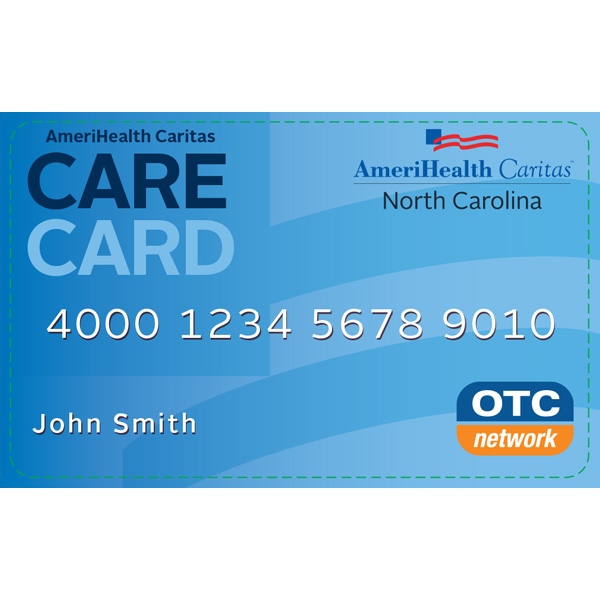 Activation:
To activate your card, please call 1-888-682-2400 and follow the instructions. You can also activate your card and check your card balance by visiting http://www.myotccard.com. You may need your Medicaid ID card with you to complete activation.
If you lose your card, you can request a new one by calling ACNC Member Services at 1-855-375-8811 (TTY 1-866-209-6421).
Visit a participating retailer:
Walmart
Food Lion
Walgreens
CVS Pharmacy
Dollar General
Family Dollar
You do not need a prescription and do not need to go to the pharmacy window. Remember to take your card with you — you will need the card to pay for your eligible items.
Pay cashier:
Gather your eligible items and proceed to the store check-out lanes. When you check out, swipe the card for payment. Eligible items up to your available card balance can be paid for with your card.
Any remaining balance will carry over until your next purchase, and new rewards will be loaded as you earn them.
Products you can buy with your CARE Card include*:
Baby care
Diapers
Baby wipes
Nursing items
Baby powder
Diaper bags
Bottles
Formula
Baby foods
Pacifiers
Teething relief
Baby clothes
Bibs
Training pants
Eye care
Contact solution
Contact lens cases
Eye drops
Reading glasses
Sunglasses
Children's medicines — over-the-counter (OTC)
Children's cough and cold medicines
Children's allergy medicines
Children's stomach medicine
Children's vitamins
Healthy foods
Fruit and vegetables
Bottled water
Meats
Milk
Family planning
Pregnancy tests
Condoms
Contraceptives
Women's care
Feminine pads and tampons
Panty liners
Anti-fungal creams
Diabetic supplies
Glucose monitors
Test strips
Compression socks
Foot bath supplies
Pain relief
Aspirin
Acetaminophen
Ibuprofen
Muscle pain creams
Joint pain medicines
Digestion medicines
Antacids
Laxatives
Stomach medicines
Anti-gas medicines
Diarrhea treatments
Hemorrhoid creams
Wellness items
Vitamins
Nutrition bars
Sport drinks
Weight loss foods and shakes
Home health items
Bandages
Bathtub and toilet rails
Grab bars
Bed pans
Mattress covers
Canes
Crutches
Walking aids
Wound dressings
Air purifiers
Everyday needs
Deodorants
Toothpaste
Toothbrushes
Denture cleaners
Lip balm
Mouthwash
Adhesive bandages
Shaving cream and razors
Shampoos and conditioners
Soap and body wash
Body lotions
Sunscreen
First-aid kits
*You cannot use your rewards to purchase alcohol, tobacco or firearms. Rewards expire 12 months after your most recent reward or upon member disenrollment. Your rewards may not be converted to cash. This list may not include all approved products. If you have a question about eligible items, please call Member Services at 1-855-375-8811 (TTY 1-866-209-6421).
Eligible CARE Card program rewards may change. AmeriHealth Caritas North Carolina will notify you before the change happens.
Once your primary care provider notifies us that you have completed a healthy activity, we will add rewards to your card. Members may not be eligible to earn all of the rewards listed. For questions, call Member Services at 1-855-375-8811 (TTY 1-866-209-6421) 24 hours a day, seven days a week.